Shop Jeep® Wrangler 4-Door Sport S Best Deals & Offers Middle Tennessee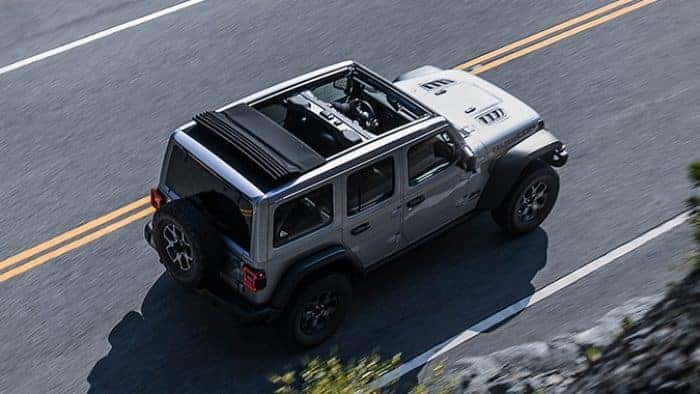 The 2019 Jeep Wrangler is the 2018 SUV of the year with more options, features and limitless customization.  The adventures you will take on with your new Wrangler are unique and the roads traveled are often unpaved, just like those paths you will carve you can now make your Jeep uniquely yours with brand new Jeep Brand Graphics.  The online studio allows you to apply hundreds of different graphic combinations.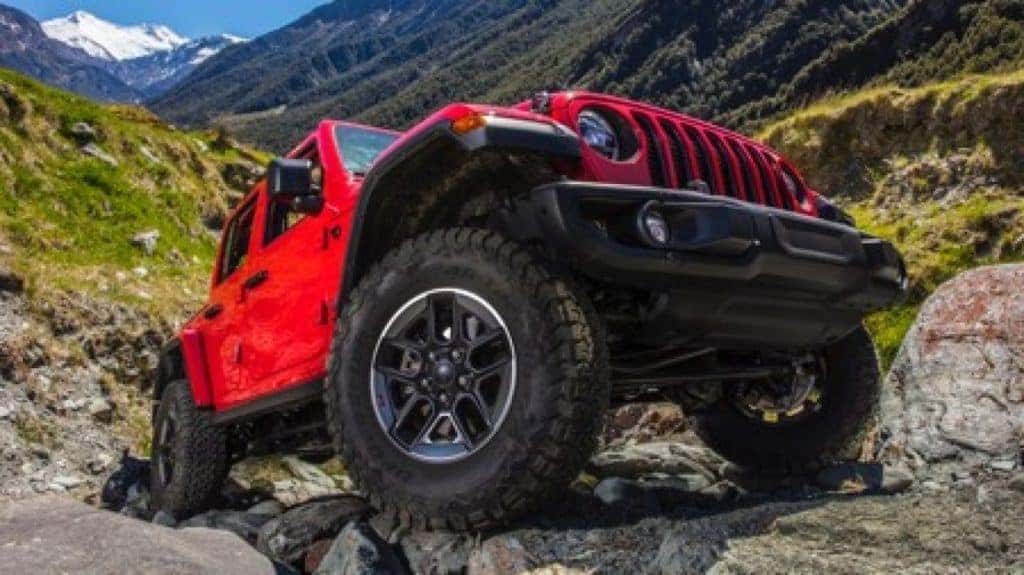 The 2019 Jeep Wrangler for sale is the icon that you love with features that you needed. You have the classic round headlights, the military styled aesthetics of the exterior with new shapes and curves that you will love along with the capability and off-roadability of the 4×4 system upfitted with new intelligent features that help you carve out that trail.  Take off the classic and beloved removable top and removable doors and let the air and nature comb through you as you take on the rough country or the green plains.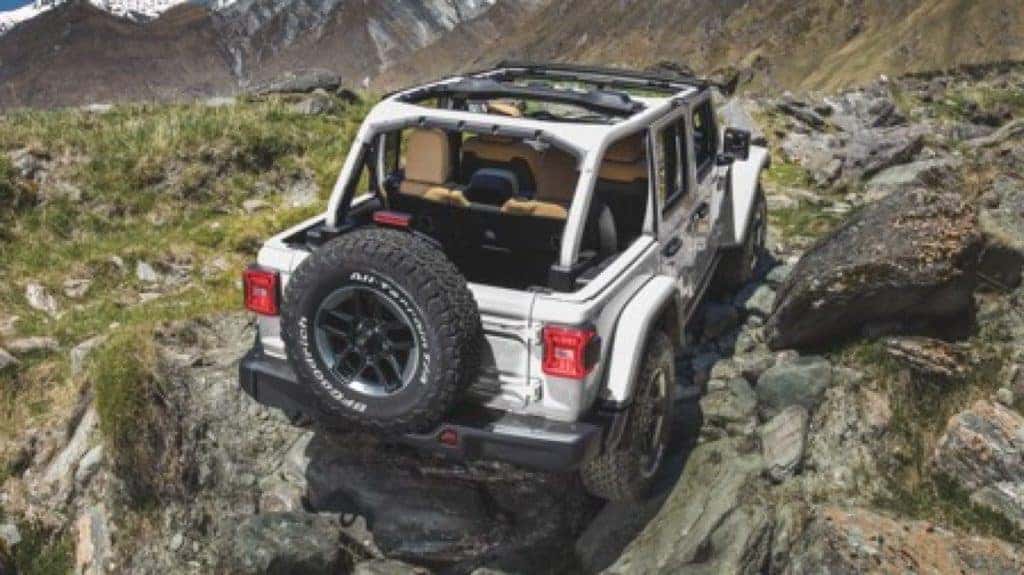 The 2019 Jeep Wrangler leases well because of its unique ability to hold its value through the years. Perhaps its the confident four-wheel stance or the large selection of stock wheels and fenders that propel every trim to new heights.  Whether you plan to rock the sport model with the black fenders or the Sahara trim with the color matched styling or even the rugged black fenders for the Rubicon are made standard for the 33-inch off-road, all terrain tires, they are ready to accommodate tires up to even the ludicrous size of 35-inches, but fear not if you prefer something larger there are many aftermarket suppliers that provide lift kits that will not only elevate your Wrangler to open skies but also allow you more options in regards to both wheels and tires.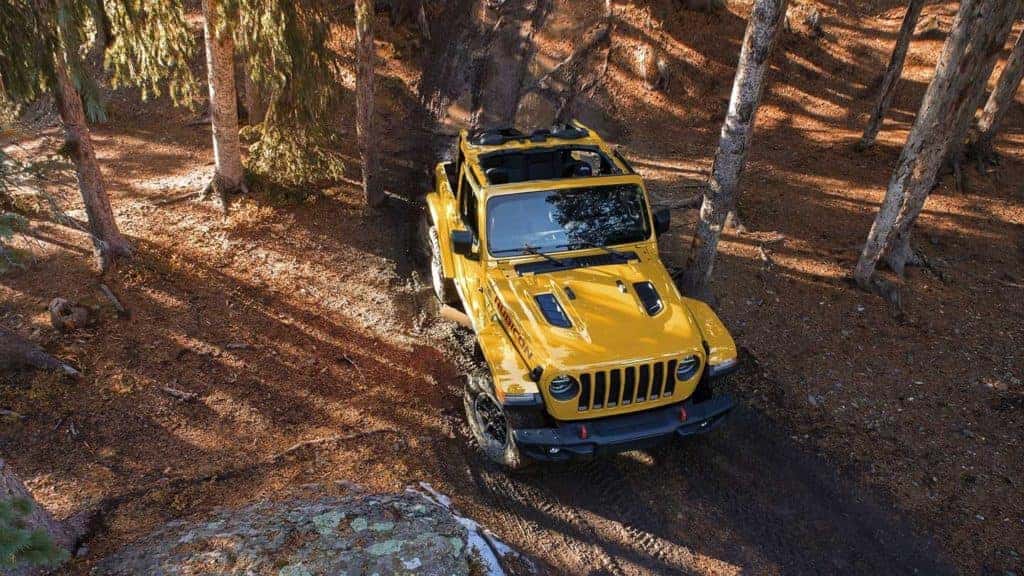 If you want to get closer to the open road, the nature or the sands of the beach with your 2019 Wrangler for sale near Pulaski Tennessee now you can with the fold for fun option of the front windshield.  Just like in the old classic military Jeeps you can now get a clearer view of the paths ahead due to the fold-down windshield that is easier to fold down or up. With only 4 removable bolts versus the 28, the action has never been closer to you.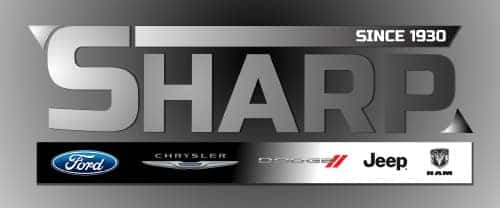 #SHARP WRANGLER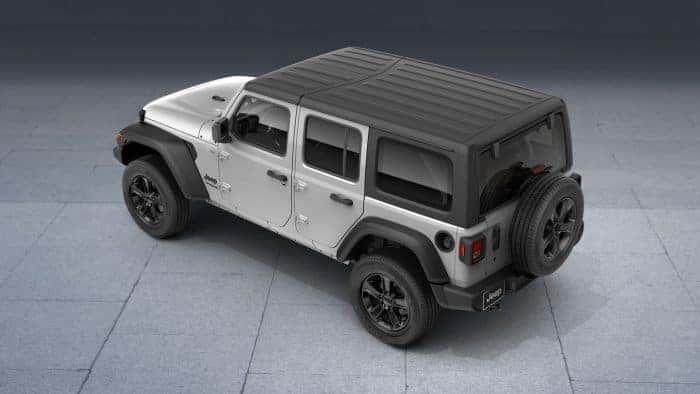 So you just got off that hardcore trail and you want to get the fresh air in the cabin, but the windows aren't doing the job, you have no room to store your roof parts and you are nowhere near a garage, not a problem, with the all new Sky One-Touch Power top you can take the roof off as easily as opening a sunroof with the simply push of a button.  The roof will unveil the stars and the sun within a mere 20 seconds and you will be amazed how connected you feel to the universe around you. The rain, snow or a terrifying storm can no longer catch you off-guard. Take off all the doors to be surrounded by nature you are trying to claim as your own with several different combinations for the different adventure seekers.
HIGHLIGHTS WRANGLER 4-Door SPORT S
2.0L Direct-Injection Turbo Engine with eTorque The available 2.0L Direct-Injection Turbo Engine with eTorque Mild Hybrid System offers 35% improved city fuel efficiency ( Disclosure13) on two-door models and more torque. The powerplant blends performance-enhancing and fuel-saving technologies to optimize powertrain efficiency and effectiveness, particularly in the low rpm range.
Available Blind Spot Monitoring Get extra protection for you and your passengers with the available Active Safety Group. This package includes the Blind Spot Monitoring ( Disclosure11) system that helps you make safer lane changes by alerting you with a lit icon on the corresponding exterior mirror when a vehicle enters your blind spot zone.
Available Uconnect® 4 with 7-Inch Touchscreen The available Uconnect® 4 with 7-inch touchscreen puts the info you want right where you need it. Use the simple Uconnect® interface to access Apple CarPlay® ( Disclosure14) support or Android Auto™ ( Disclosure15) integration and enjoy your smartphone capabilities without ever having to take your eyes off the road.
Available Black Freedom Top® Three-Piece Hardtop The available three-piece black modular hardtop allows easier handling and storage by separating into three manageable pieces.
WRANGLER SPORT S 4 -DOOR COLORS HIGHLIGHTS
JEEP WRANGLER SPORT EXTERIOR GALLERY
SAFETY AND SECURITY HIGHLIGHTS JEEP WRANGLER SPORT
UNCHARTED TERRITORY IS YOUR COMFORT ZONE
Adventures often take you into unfamiliar places. That's why the 2019 Jeep® Wrangler
has over 75 standard and available safety and security features
to help minimize risks,
help keep you and your passengers
protected and allow you to explore with confidence.
INTERIOR HIGHLIGHTS JEEP WRANGLER SPORT
FEND OFF WINTER'S WORST The off-road fun shouldn't have to stop in the off-season. That's why the 2019 Jeep® Wrangler offers available cold-ready features so you can keep going, even when the temperature is going down.
GRAB HANDLES Grab handles are built right into both the A-pillar and B-pillar to help make it easier to get in and out of the Wrangler and to offer solid support when off-roading.
PUSH-BUTTON START The 2019 Jeep® Wrangler can be started with the push of a button while stepping on the brake. The waterproof Start/Stop button has been tried and tested in a 24-hour soak test in a mist chamber, so it won't fail you.
DUAL-ZONE AUTOMATIC TEMPERATURE CONTROL Thanks to two sets of controls, you and your front passenger can conveniently create your own microclimates with available Dual-Zone Automatic Temperature Control. Once both temperatures are set, the system will maintain them regardless of outside environmental factors.
JEEP WRANGLER HIGHLIGHTS CAPABILITY
TRACTION Efficiently transferring engine power to the ground is what traction is all about. Wrangler is available with a choice of 4x4 systems to handle some of the most unpredictable conditions.
WATER FORDING ( Disclosure3) Wrangler is designed with a high air intake, sealed electrical connections and moisture-resistant body openings so you can cross small creeks, streams and deep rainstorm puddles without a worry.
MANEUVERABILITY Easily maneuver tight, treacherous trails and navigate unexpected hurdles like rocks or fallen logs thanks to a precision steering systems and optimized wheelbases.
ARTICULATION Good suspension and axle articulation enhance your performance by maximizing flexibility. Keeping your wheels on the ground longer for maximum traction while going over obstacles is the key.
GROUND CLEARANCE Wrangler is built and tested for driving over obstacles such as logs, rocks or whatever else happens to be on the trail. Rugged skid plates help protect vital underbody components.
At Sharp Chrysler Dodge Jeep Ram we've proudly served #Pulaski, TN
, and the greater Columbia, TN area.We offer shipping all states . Program is available in ,Collierville,TN ,Germantown,TN, Kingsport,TN, Brentwood,TN, Bartlett,TN, Mt. Juliet,TN, Spring Hill,TN, Smyrna,TN, Nolensville,TN, Bristol,TN, Hendersonville,TN, Jonesborough,TN, Columbia,TN, Oak Ridge,TN, Maryville,TN, Signal Mountain,TN, Farragut,TN, Gallatin,TN,  Gatlinburg,TN and the whole state of Tennessee as well as Alabama. Our knowledgeable sales staff will walk you through finding the perfect new or pre-owned vehicle. Explore our wide range of great New SUV, New Truck, and New Sedan lease and finance specials.
The Sharp Chrysler Dodge Jeep Ram website is built as a resource to prepare you for a test drive of your perfect new or used vehicle. We feature our best lease deals and finance prices right on our website to make the buying process simple. Our service to you continues after purchase. We offer easy online service scheduling to keep your vehicle running like the day you bought it.
Please stop by Sharp Chrysler Dodge Jeep Ram to find your perfect Jeep vehicle or give us a call at (931) 363-2533.
                   Popular Searches
Popular New Cars for Sale
SHARP CHRYSLER DODGE JEEP RAM
1516 W College St, Pulaski, TN 38478, USA
#forsale#forsalenearme#bestdeal#bestdeals#jeepwranglersoprtUnlimitedforsale#jeepwranglersoprtUnlimitedforsalenearme#jeepwranglersoprtUnlimited#2019jeepwranglersoprtUnlimited#sales#cheapest#inexpensive#lowestpayment#bestprice#lowestprice#lowprice#affordableprice#cheapest#cheapestpayment#nodownpayment#cheappaymentjeepwranglersoprtUnlimited#smallpaymentjeepwranglersoprtUnlimited#leastpaymentjeepwranglersoprtUnlimitedforsale#basejeepwranglersoprtUnlimitedforsalenearme#nearbycaravansales#grandcaravancheapsale#salespricejeepwranglersoprtUnlimited#buyjeepwranglersoprtUnlimitednearme#buycheapestjeepwranglersoprtUnlimitednearme#shopjeepwranglersoprtUnlimitednearme#shopjeepwranglersoprtUnlimited#shopjeepwranglersoprtUnlimited#buynewjeepwranglersoprtUnlimited